AngeLynx Divination Deck, Angelish Dictionary and Lynx in Time
For comprehensive information on the angeLynx Oracle Deck, reviews, cards and schedule of events, go to: http://www.angeLynx.com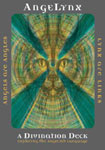 The AngeLynx Divination Deck is an exploration of language and left brain-right brain interactions that takes us on a journey through the creation of physical reality Physical World - Fizz I Call Whirled) THE WORD and our own imagination (I Magi Nation) and how language determines our personal realities: words are spelled in sentences because we are sentenced to live by the spells we cast. Each angeLynx Divination Deck includes an instruction booklet on how to use the cards, an introduction to the concepts of Angelish, and brief descriptions of each card.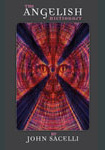 The Angelish Dictionary includes further essays on Angelish, the Original Language, and 1,000 new Angelisms (exs. Defense - de fence I keep around me; Question - the quest I am on.) Topical lists such as Disease demonstrate how the name of the disease revels its origin and etiology. While the names of Drugs describes the reason why we're taking the drug. And the names of Presidents reveal the 'Precedents' set during their administrations. The signs of the Zodiac are also rendered in Angelish.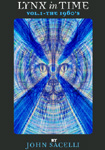 Lynx in Time, Vol 1 - the 1960's is my personal stories of encountering and surviving that turbulent era. As a Civil Rights Worker in Alabama, a Community Organizer in Chicago, the Summer of Love in San Francisco, through marches, riots, arrests, and the investigation of psychedelics, spiritual paths and political activism, I wend my way through the period that changed the direction of the country. There are also stories of my personal explorations: canoeing down the Mississippi River, hitchhiking across North Africa, the Middle East and Eastern Europe, 'Easy-Riding' a Honda 450 across the US. In journals, short stories and poetry, these are the reflections of the decade which shaped me.
To order online, simply fill out the form below and click Submit, and you will be redirected to PayPal for secure payment. Paypal accepts a variety of payment methods, including credit/debit cards and electronic checks. Your deck will ship upon verification of payment, and you will receive an email from me confirming your shipment.
If you would like to order your deck or dictionary by email or phone, please email salynx@yahoo.com, or call (773) 761-0252 to arrange shipping and payment information.